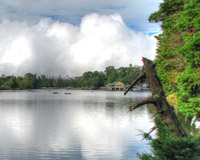 Location:
Tamil Nadu, India
Altitude:
2,133 m
Summer Temperature:
28° C to 11° C
Winter Temperature:
17° C to 8° C
Best Time to Visit:
April to June and September to October
Kodaikanal is situated at a height of about 2,133 m above sea level. Being nestled amidst the Palani Hills, Kodaikanal enjoys a pleasant weather throughout the year. The town experiences a temperate subtropical climate and therefore attracts tourists in every season. However, the best time to visit Kodai Kanal is from April to June and September to October. The weather is at its best, providing you the perfect setting to explore the hidden treasures of this nature's marvel.
Summer
During the summer months, i.e. during the months of April and June, the average temperature hovers around 18° C. This is one of the apt times to visit the place. In comparison with other neighboring cities in the state, the town offers an extremely cool weather. The waterfalls and lakes surrounding the town are just the perfect reason to spend a short vacation in the vicinity.
Monsoon
The month of July sees the onset of monsoon, which brings showers of rain, drenching the hills and the landscape alike. The whole scenery is washed spic and span and the area appears fresh and greener. However, it is not the best season to visit Kodaikanal, as the place becomes quite slippery. Moreover, it is prone to landsides, which are hazardous. The monsoons last till the month of August and during this time, the hills should be avoided.
Winter
During the winter months, i.e. between September and October, the weather once again becomes congenial for tourists. The average temperature remains around 20° C to 10° C. Yet, after October, the winter chill becomes quite prominent, with temperature sometimes falling to zero in January. This can be attributed from the fact that a thin layer of ice can be seen on the surface of the lake. Winter months also experience rain showers, which add spice to the weather of Kodaikanal.