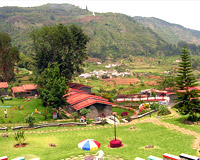 Location:
Tamil Nadu, India
Climate:
Temperate Subtropical Climate
Best Time to Visit:
April to June and September to October
Main Attractions:
Kodaikanal Lake, Flora Museum, Bryant Park, Kurinji Andavar Temple, Astrophysical Observatory, etc
Situated in the state of Tamil Nadu, Kodaikanal is a flourishing hill resort. Located in the Palani Hills on the Western Ghats, the elfin hills station is slowly catching attention of the tourists from all over India. Due to the fact that the innate beauty of the place is untouched and unexplored, it attracts visitors in large numbers. Taking an insight into the uncharted town, its main characteristics include serene surroundings, balmy climate and heavenly solitude. What makes it more credible is its name Kodaikanal, which actually means "gift of the forest".
In effect, Kodaikanal has slowly become a potent travel and tourism destination, drawing more and more people towards its surreal charm and serenity. Throwing light on the historical background of the hill station, it was established by American missionaries in South India. They could not bear the scorching heat of the sun in the state and were easily prone to epidemic diseases, which proved fatal at times. In order to rest and regain health, they wished for neat and healthy natural surroundings.
Their prayers were answered when they discovered the gracious town of Kodaikanal. Thus, it was established around 1845, when the missionaries set up warehouses on the lake road. This was followed by the construction of houses and dwellings and a dainty hill station sprung up. Presently, apart from its natural beauty and splendor, Kodaikanal is famous for its educational institutes, churches, lakes and waterfalls. The rich flora and fruits such as plums, growing in the region are famous for their freshness and flavor.
Furthermore, it is renowned for "Kurijini" flower (Strobilanthus Kunthanus), which blooms once in every twelve years. Besides, tourists can also enjoy trekking through the meandering highs and lows of the lush woods. The town also provides ample opportunity for shopping and leisure activities such as boating and golfing. So, those of you who want to relax in the arms of nature, head on. Kodaikanal is easily accessible from all the major cities via a good network of transportation.