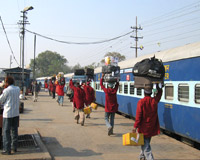 Kodaikanal is a small hill station perched amidst Palani Hills. Blessed with immense natural beauty, it acts as a haven for the native people residing in the cities within Tamil Nadu as well as India. During summer months, when the scorching heat of the sun leaves people parched, Kodaikanal is the first place which comes in mind. The lush green hilly town provides respite in all aspects, providing ample opportunity to the visitors to unwind in nature's lap. However, the initial question which pops up in a tourist's mind is how to reach Kodaikanal. The answer is that traveling or getting to this pretty place is quite easy and comfortable due to the availability of various means of transport.
By Air
The nearest airport from Kodaikanal is situated at Madurai, which is around 120 km away. Madurai Airport is connected to all the major cities of India with regular flights. Both public and private airlines ply from here, making Kodaikanal easily accessible for the domestic tourists. The second nearest airport lies at Coimbatore.
By Rail
The nearest railway stations to Kodaikanal are Palani and Kodai Road railway stations. The former is at a distance of 80 km, while the latter is 65 km away. Both these stations are well connected to the major cities in the state, such as Madurai and Chennai. These cities are in turn connected to the rest of the country via express and super fast trains.
By Road
Kodaikanal has an effective network of roads, which links it to the major cities of the state like Madurai, Chennai, Coimbatore, etc. via State Highways. To make the journey comfortable, both TTDC and private bus services ply from here, which are available at regular intervals. Moreover, tourists can also hire private cars and vans, which operate from Madurai.